Our Mission
To support families with a baby in the NICU (neonatal ICU) and those who experience the death of a child or pregnancy loss at hospitals in Wisconsin.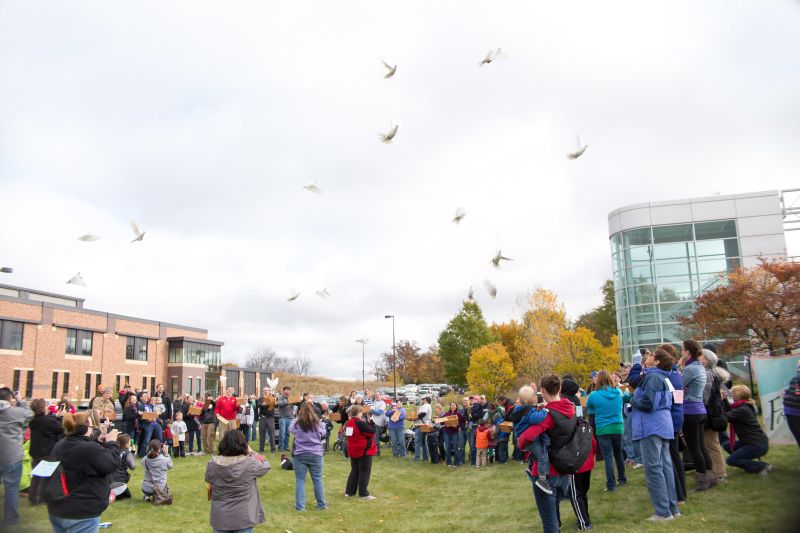 2020 Forever In Our Hearts
Tickets for the 10th Annual
Forever in Our Hearts Remembrance Day
are on sale now for our VIRTUAL EVENT!
Since we are unable to gather in person this year, we invite you to do a walk in your own community with a small group of your friends and family sometime on the dates of October 15-18. The 2020 Virtual Forever in Our Hearts Remembrance Day is an opportunity to bring honor to our babies and healing to our hearts. The world feels uncertain right now, especially for families who are still healing from the loss of a child. Having the opportunity to gather together and receive support from friends and family in memory of our babies is even more important now, so we have decided to move forward with our annual event in a virtual format. We hope that it offers families a platform to speak their babies names and also to increase awareness of Pregnancy and Infant Loss Awareness during the month of October.
This year's Virtual Event also offers individual fundraising pages to ensure future support to families who will sadly walk in our shoes one day. Mikayla's Grace still needs funds to continue all of our current programs that support families who have experienced the death of a baby or have a baby in the NICU.
The Virtual Event includes an online event page on Facebook where we can share pictures of our community gatherings or simply to share your baby's name or story to honor your baby. We will also be posting a video with all of the baby names remembered during the event. We encourage all participants to journey with their friends and family for a short reflective walk in their own community, following appropriate social distancing guidelines for your area. Together, we will create the same sense of community and support found at our in person walks.
How to Volunteer
We are always looking for volunteers to help with making handmade items. There are also opportunities for in-person support during our annual Forever In Our Heart event and Work Days.
Want to help?
When you donate to Mikayla's Grace, whether monetarily or by giving your time, you join our cause and directly support bereaved and NICU families in our community.

Stay Connected
Latest News & Events
What I've Learned During the Journey to Become Rory's Mom Growing up I knew one thing for sure –...
Professional Photographers Volunteer With Nonprofit GroupUpdated: 1:57 pm CDT May 5, 2011 MADISON, Wis. — A local couple is celebrating their...
Submitted by Scott Beedy, Channel 3000 Community EditorFriday, June 24th, 2011, 3:22pm Last June, Melissa and Mike Terrill had an experience...